1 lamb leg roast
1 lamb shoulder
3 garlic cloves
50 grams of butter
Olive Oil
Salt
Espelette pepper
Rosemary
Thyme
1 onion
1 carot
1 leek
Start with the lamb shoulder.
Sear the lamb shoulder seasoned with salt in a hot pan with olive oil. Once well colored, place the shoulder in a casserole dish, add the espelette pepper, onion, carrot, leek cut into small pieces with thyme, rosemary, and crushed garlic.
Put the closed casserole dish in the oven at 95 degrees for 8 hours.
For the roast, same steps as the shoulder, sear all sides in a hot pan with olive oil, add the butter and garlic, lower the heat, and baste the meat regularly with the cooking butter.
Place the roast in the oven for about 4 minutes then let the meat rest for 5 minutes outside the oven so that the cooking is even.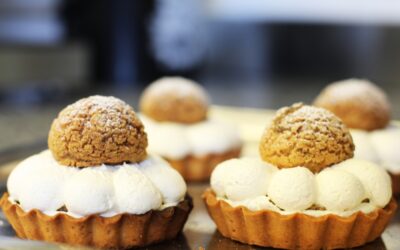 Fried foie gras, roast apples and a reduction of raspberry vinegarIngrédients  Pie Crust - 75 g sugar - 2 egg yolks - 135 g flour - 15 g bitter cocoa powder - 90 g butter Coffe Mascarpone Mousse - 375 g mascarpone - 3 eggs - 75 g sugar - 3 teaspoons coffee extract -...
read more