1ST MIXTURE
1 egg
1 egg yolk
60g of sugar
2ND MIXTURE
3RD MIXTURE
60g of flour
5g of starch (corn flour
150g of dark baking chocolate
40g of sugar
3 egg yolks
150g of milk
150g of heavy cream
1 tonka bean
150g of water
75g of sugar
1ST MIXTURE
Combine all ingredients with an electric mixer until the mixture becomes light and fluffy.
2ND MIXTURE
Whip the egg whites with an electric mixer
Add the sugar and mix well.
3RD MIXTURE
Sift the flour and corn starch into a bowl.
PREPARATION OF THE CAKE
Gently combine mixtures 1 and 2 with a spatula.
Use the spatula to gradually add in the 3rd mixture in 3 stages.
Pour the mixture onto a baking tray lined with parchment paper.
Bake at 170°C for 10 minutes.
Pour the milk and the heavy cream into a saucepan.
Grate the tonka bean into the milk and cream.
Bring to the boil and cook for 5 minutes, allowing the grated tonka bean to infuse in the mixture.
Combine the egg yolks and sugar in a bowl and whisk until light and foamy.
Add the hot milk and cream mixture and mix well.
Return to the saucepan and cook on a medium heat until the mixture thickens.
Heat over medium heat until the mixture thickens.
Break the dark chocolate into chunks and place in a bowl.
Melt the chocolate by pouring over the hot milk, cream & egg yolk mixture
When the mixture is ready, pour it while still hot preparation over the chocolate to melt it.
Stir with a whisk.
Set aside and allow to cool to room temperature.
Remove the baking sheet from the cake and place onto a new baking sheet on your work surface.
Moisten the cake with the syrup using a brush.
Spread a thin layer of ganache all over the cake (5mm).
Roll the cake up.
Put it in the fridge.
Once the cake has cooled, frost your cake with the remaining ganache.
Decorate and serve!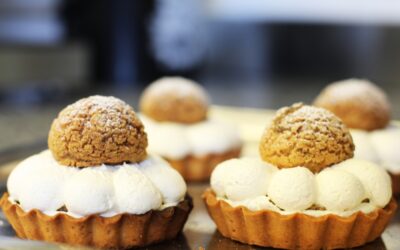 Fried foie gras, roast apples and a reduction of raspberry vinegarIngrédients  Pie Crust - 75 g sugar - 2 egg yolks - 135 g flour - 15 g bitter cocoa powder - 90 g butter Coffe Mascarpone Mousse - 375 g mascarpone - 3 eggs - 75 g sugar - 3 teaspoons coffee extract -...
read more