1 courgette
 1 aubergine
1 red onion
 1 tomato (any kind)
4 slices Iberian ham
1 farmhouse loaf
Olive oil, for instance, Les Tannes en Occitanie from the Domaines Paul Mas)
A few fl akes of Parmesan
1 clove garlic
Cut the courgette and aubergine into slices, thensear them in a frying pan with a little olive oil.
Slice the onion thinly and fry gently in a dash ofolive oil until soft, stirring occasionally.
Cut the tomato into slices and season. The salt willextract the water from the tomato.
Cut the farmhouse loaf into thick slices and toastthem, or fry them in a pan in a little olive oil untilthey are golden.
When done, rub them with the garlic clove.
Spread the red onion compote on the toast, thenadd the sliced tomato, courgette and aubergine,the ham and the fl akes of Parmesan.
The toast with vegetables can be put in the oven soas to melt the Parmesan slightly, or they can beserved cold, with an aperitif.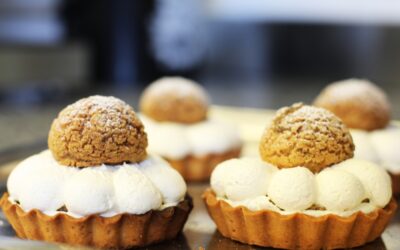 Fried foie gras, roast apples and a reduction of raspberry vinegarIngrédients  Pie Crust - 75 g sugar - 2 egg yolks - 135 g flour - 15 g bitter cocoa powder - 90 g butter Coffe Mascarpone Mousse - 375 g mascarpone - 3 eggs - 75 g sugar - 3 teaspoons coffee extract -...
read more