Roast apples
– 3 apples
– 50 g butter
– 15 g sugar
– 40 g shelled walnuts
The vinegar reduction
– 50 ml raspberry vinegar
– 35 g sugar
The foie gras
– 500 g foie gras, deveined and
with the nerves removed
– 20 g flour
– Salt and pepper
Presentation
– Fleur de sel (flower of salt)
Roast apples
Wash the apples, peel them, and cut them in half widthways.
Fry in a pan until golden before adding the sugar and butter, then finish cooking in the oven, preheated to 160°C, for about 10 minutes. When the cooking is done,
add the walnuts to the apple mixture.
The vinegar reduction
Put the raspberry vinegar in a saucepan, add the sugar and reduce slowly to give it the consistency of honey. This will take about 25 minutes.
The foie gras
Cut the foie gras into slices, allowing about 80 g per person. Season them, then coat all sides with flour. Shake off any excess flour. Cook the slices of foie gras in a hot frying pan without any fat for about 3 minutes on each side. Leave to rest on kitchen paper for about 2 minutes, so that they release as much fat as possible.
Presentation
Adjust the seasoning of the foie gras with the fleur de sel. On each plate, arrange a slice of foie gras with a dash of the raspberry vinegar reduction. Put a roast apple half next to it and serve warm.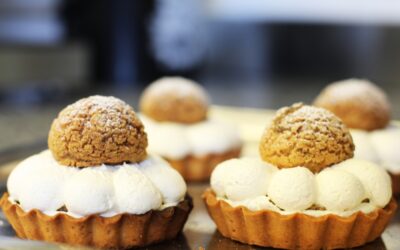 Fried foie gras, roast apples and a reduction of raspberry vinegarIngrédients  Pie Crust - 75 g sugar - 2 egg yolks - 135 g flour - 15 g bitter cocoa powder - 90 g butter Coffe Mascarpone Mousse - 375 g mascarpone - 3 eggs - 75 g sugar - 3 teaspoons coffee extract -...
read more