4 eggs
Truffle from the Aude or Uzès
400 g fresh Taglioni
100 g lean bacon
3 tablespoons crème fraîche
3 tablespoons olive oil
Parmesan flakes
Salt
A few days (ideally five days) before preparing the recipe, put the eggs with the truffle in a closed container and leave in a cool place so that the eggs absorb the aromas of the precious fungus.
On the day of preparation, cut the bacon into small dice.
Cook the fresh pasta for 2 to 3 minutes, then drain. It must be al dente!
Fry the diced bacon in a pan without adding any fat.
Keep it on a low heat.
Separate the egg yolks from the whites. Stir the yolks and the diced bacon together. Put aside.
Heat the equivalent of 3 coffee cups of crème fraiche and olive oil.
Add to the pan with the eggs and diced bacon. Stir again.
Add the pasta.
Season with salt and pepper to taste, then stir again.
Presentation:
Cut the truffle into slices. Add these and the Parmesan flakes to the pasta mixture, then serve in soup bowls.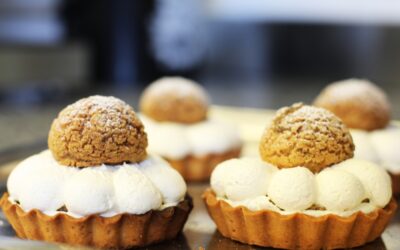 Fried foie gras, roast apples and a reduction of raspberry vinegarIngrédients  Pie Crust - 75 g sugar - 2 egg yolks - 135 g flour - 15 g bitter cocoa powder - 90 g butter Coffe Mascarpone Mousse - 375 g mascarpone - 3 eggs - 75 g sugar - 3 teaspoons coffee extract -...
read more