Arrogant Frog
THE HUMBLE WINEMAKER
Within a couple of years, Arrogant Frog has made itself the mascot of our estates.
La Mascotte
'The Humble Winemaker' shows that with creativity, expertise and humour, it is possible to take the wines of the South of France to all 4 corners of the globe and to indulge yourself at an affordable price. Arrogant Frog represents our South of France "Art de Vivre".
The Arrogant Frog cuvées are Château Arrogant Frog, Arrogant Frog Reserve, as well as single varietal or blends.
Château Arrogant Frog is made up of 20 hectares in Grand Cru Limoux (15 organically farmed and 5 certified by Terra Vitis). Located near to the village of Gaja-et-Villedieu, (100 km from the coast), the vineyards are north-facing and at an altitude of 200 metres in the area most influenced by the maritime climate of the Limoux region. The vines are rooted in clay-limestone soils with shale and stoney, clay soils, producing the best grapes that in turn make the prestigious AOP Limoux and IGP Pays d'Oc wines.
Château Arrogant Frog Red wines are made from Merlot, Cabernet Sauvignon, Malbec and Syrah, while the white wines are made from Mauzac and Chardonnay – the vines aged between 11 and 33 years are planted to a density of 6000 vines per hectare and yield 45 hl/ha. The grapes are hand-harvested whilst the vines are pruned using the Guyot simple and Cordon de Royat methods.
Château Arrogant Frog has won some major awards and the Chardonnay, most notably, is considered a benchmark wine.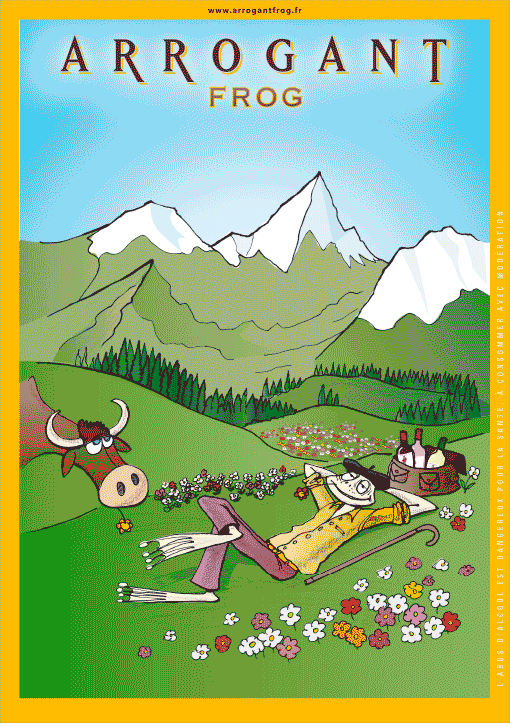 Daring to be different
The understanding of « Terroir » by The Humle Winemaker combines 4 elements : the soil, the climate, the type of vines and work of the winemaker/winegrower. « Terroir is above all the ability to grow the best possible grapes needed to achieve the style of wine desired and the best possible price… »
The long term follow up and control of the vineyards enble us to influence the vine to produce the quality of grape we look for. Our biggest advantage is that we operate at the scale of a New World Winery with the same control as a small old World Château
Address
Château de Conas – 34120 Pezenas
Tel : +33 (0)4 67 90 16 10
Fax : +33 (0)4 67 98 00 60
E-mail : info@arrogantfrog.fr