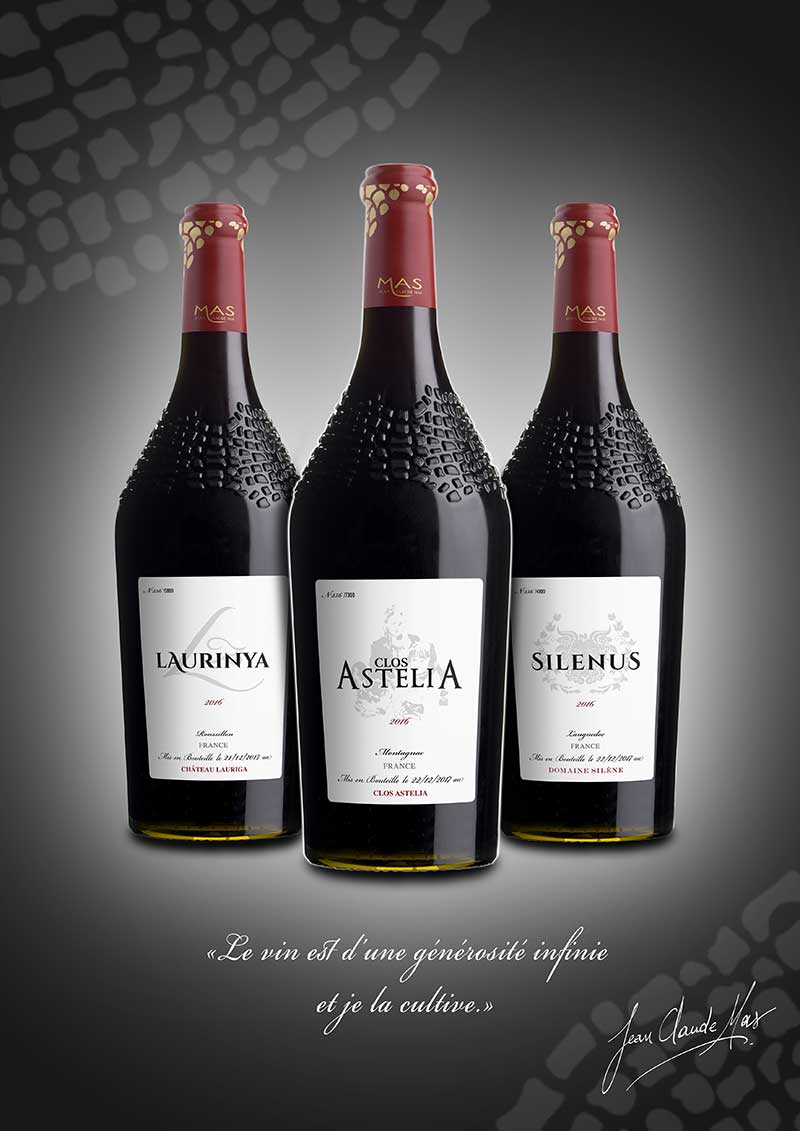 After 18 years (this is the age of majority!) of experience, analysis, discoveries, work, passion to try to better understand the soils, climates, flora, vine plants (clones, rootstocks) of Languedoc I understood that it was time to reveal these exceptional terroirs with our estates. The Clos Astelia, Laurinya, Silénus are the first witnesses with the 2016 vintages.
A true noetic approach that allowed me to see in my vineyards and my wines a potential that until then I had not really highlighted.
I also understood that Cinsault could be what Pinot Noir or Nebbiolo are in Burgundy or Barolo. 2 cuvées from Cinsault will complete the range. Exceptional parcels are left to be discovered on our lands of Limoux, Corbiéres Boutenac, Minervois, Terrasses du Larzac or Pézenas.
Sublime landscapes, unique natural sites in the world, an exceptional heritage, a fascinating history, preserved crafts and vineyards, a palette of soils and climates that allows all audacities, This is what I have the chance to enjoy, meet, know and cultivate. A viticulture respectful of our environment, biodynamic or biological are part of our values: in a soil full of life, the vine behaves better and the wines are better. Just like wine that ferments without any addition of sulphites.
Our Wines Laurinya, Clos Astelia et Silenus.
First of all it is a bottle that I designed and entrusted to Daum for a first edition of 30 crystal bottles each decorated by the Artist C.H.A.P. Each of those crystal bottles contains the essence of the best barrel of each Laurinya, Clos Astelia, Silenus.
This crystal bottle has been declined in glass under the name of the bottle Astelia AAA. Astelia is Astrid, Elisa, Apolline, Estelle my 4 daughters. Just like this singular bottle with a unique character and attitude the first 3 vintages are there to reveal as much passion as pleasure.
Silenus

The Silenus cuvee was born at the heart of the Peyrals, a terroir of compressed limestone rocks. Born on the Domaine Silène in St Pons de Mauchiens, on plots that my grandfather, Raymond worked long before me. I have a predilection for this place, where you will find my favourite two plots of Syrah (Charlotte) and Grenache Noir (Le Lac) vines, which are over 35 years old and are grown using biodynamic farming techniques: 8000 and 5400 vine per hectare, cordon de Royat pruning, appropriated canvas well adapted to the main winds, an altitude of 140 m while overlooking the nearby Mediterranean sea 7km away.
Harvest by hand, the traditional vinification process is natural, followed by aging for 14 months in new oak vats and oak barrels, which allows the wine to achieve its full expression.
This bottle contains a subtle blend of the knowledge imparted to me by an exceptional mentor, Giorgio Grai, my passion for the Languedoc and vineyards, of the heady lifestyle of our Italian cousins. A great wine ambassador of the "Luxe Rural". Jean Claude Mas
4500 bottles produced.
Laurinya

It was on the "Sioures" plot at Domaine Lauriga that the Laurinya cuvee was born. It is a heady blend of mainly Syrah (28 years old) with a little Carignan (102 years old and Grenache noir (27 years old). Cordon de Royat pruning, 5400 and 10 000 vines per hectare suits perfectly these slates, silex, gres, granit, clayed limestone soils coming from alluvions of the Canigou, highest mountain (3000 m) in the French Pyrénées, overlooking the estate. With 24hl/ha in 2016 we have obtain an exceptional concentration while keeping excellent balance thanks to a controlled hydric stress.
Harvest buy hand, no sulfites added during winemaking, the wine is aged for 14 months in tronconic vats and oak barrels. 5000 bottles of this exceptional vintage have been produced. "It has taken me 17 years to identify, understand and manage some of the great terroirs of the Languedoc Roussillon. Thanks to a winemaking philosophy founded on respect for the balance of the vine and its environment, I believe we have, in 2016, made a cuvée of a quality I have never previously achieved. I hope, from now on, to enter into the arena of the world's greatest wines, with all the dreams which that entails."
Jean-Claude Mas
Clos Astelia

" The vineyard, the house, the wine cellars, the bottle and, at the heart of it all, my daughters Astrid, Elisa, Apolline and Estelle are ASTELIA". The wine is a blend of my 2 best Cabernet Sauvignon (les Tannes Est) and Syrah (Marcotte) plots, respectively 18 and 34 years old. The 35hl/ha yields is achieved with a perfect balance between the number of grape per vine, the canvas, the cordon de royat pruning, the clayed limestone with pebbles soils and the density of 5400 vines per hectare. I chose this particular blend as a reverence to the first wine I ever made in 1998. This time with further experience and the ambition to show that Languedoc is the home of the greatest Cabernet Sauvignon.
Harvest by hand, traditional and natural winemaking process, the wine is then aged for 14 months in new oak vats and oak barrels. 7200 bottles of this exceptional vintage have been produced.
Thanks to a winemaking philosophy founded on respect for the balance of the vine and its environment, this wine is an ambassador of the Luxe Rural." Jean-Claude Mas