CHICKEN SUPREME IN AN ALMOND AND TRUFFLE CRUST,
ROASTED BUTTERNUT SQUASH AND CREAMY CHESTNUT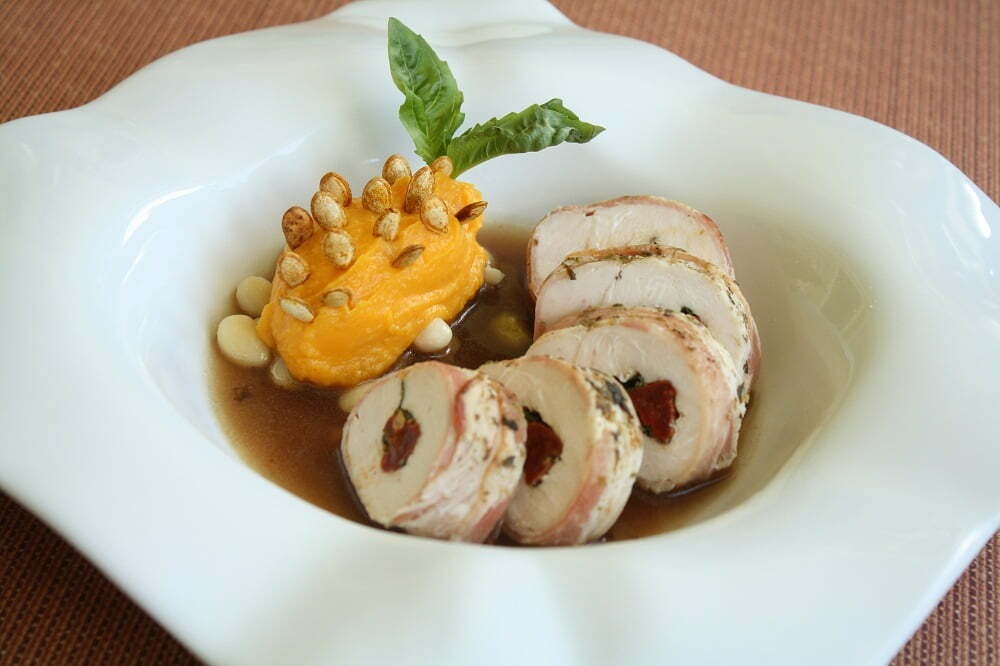 WINE PAIRING SUGGESTION : PAUL MAS RESERVE Pinot Noir, IGP Pays d'Oc

Serves 6 people
FOR THE CRUST
100g of butter
60g breadcrumbs
40g of almond powder
10cl of truffle oil
6 chicken breasts
2 butternut squash
200g of chestnuts
150g of heavy cream (or double cream)
For the crust: mix the ingredients together, spread a very thin layer of the mixture between two sheets of baking paper (use a flat dish to support). Chill in the fridge.
Boil the chestnuts and cream in a saucepan. Stir and season to taste.
Cut the butternut squash in half. Season with olive oil, salt, and pepper. Bake with the skin on for 30 minutes at 180°C.
In a Dutch oven pot, grill the chicken breasts. When well-browned, cover with the mixture to form the crust.
Cook in the oven for 10 minutes at 180°C.
Arrange your plates with the chicken supreme, a piece of roasted butternut squash and the chestnut cream.