Beef Wellington and mashed potatoes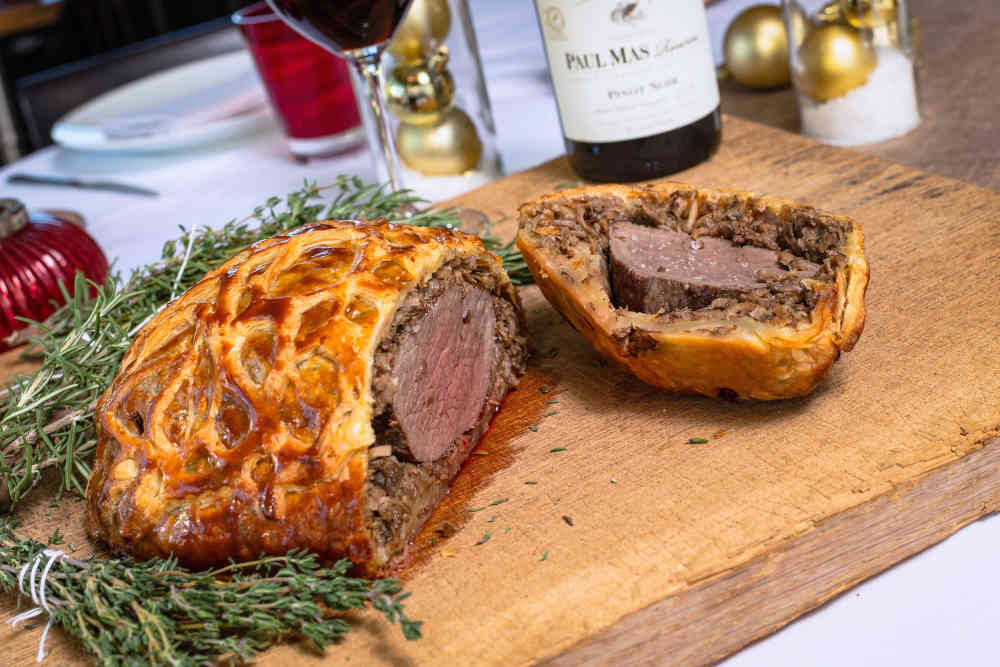 Beef Wellingtion ingredients
1Kg of Beef tenderloin
Salt according to your tastes or 12gr
Pepper according to your tastes or 3gr
800gr Fresh whole mushrooms

1 head of garlic
1 bunch of Parsley
1 roll of puff pastry
2 egg yolks
20cl of milk
Beef Wellington preparation
Season the tenderloin with salt and pepper.

Sear the beef in a pan without cooking too much.

Finely chop the mushrooms and season them with garlic and parsley.

Fry the mushrooms in the pan until they have released all their water, about 10 minutes over high heat.

Reserve aside.

Roll out the puff pastry. Spread the mushrooms on the puff pastry, drawing a square in the center of the pastry. Place the beef tenderloin on the mushrooms and fold the edges of the puff pastry to seal the preparation tightly.

Place the beef seam side down on a baking sheet so it does not open when cooking.

Mix the 2 egg yolks with 20 cl of milk and brush the puff pastry with the mixture.

Bake at 355F for 40 mins

Chef's tip:

For a beautiful effect, decorate the puff pastry with a knife before placing it in the oven. But be careful not to cut the puff pastry!
Mashed potatoes ingredients
1 Kg of potatoes – 500gr of Russet potatoes and 500gr of Yukon golds

5 cl Olive oil
Espelette pepper according to your tastes
Salt according to your tastes
Pepper according to your tastes
Mashed potatoes preparation
Peel the potatoes.

In a saucepan with cold water, cook the potatoes until tender.

Once cooked, drain the potatoes.

Mash the potatoes with a potato masher or just a fork, adding olive oil as you go.

Season with Espelette pepper, salt and pepper.

Serve hot.